Sunday, October 14th

1.00pm – 3.45pm
Charley's LG
Join host Stephen Connolly for an afternoon of poetry with readings by Jessica Traynor, Leanne O'Sullivan, Sally Ashton, Gerald Dawe, Elaine Feeney, Caroline Bracken, Manuela Moser, Conor O'Callaghan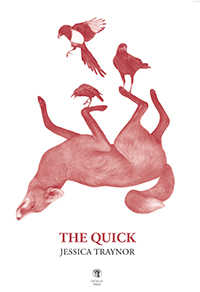 Jessica Traynor is a writer, dramaturg, and creative writing teacher from Dublin. Her debut poetry collection Liffey Swim was published by Dedalus Press in 2014 and was nominated for the Strong/Shine Award. She has been published in The Irish Times, and her other awards include a Hennessy Award and Listowel Poetry Prize. She has been described as "a poet to keep reading and listening to" by the Cordite Review, who said that "her language is fresh, erudite and engaging". Jessica will read from her newly released poetry collection, The Quick.
Leanne O'Sullivan comes from the Beara peninsula in West Cork. She received an MA in English in 2006 from University College, Cork, where she now teaches. The winner of several of Ireland's poetry competitions in her early 20s (including the Seacat, Davoren Hanna and RTE Rattlebag Poetry Slam), she has published four collections, all from Bloodaxe, Waiting for My Clothes (2004), Cailleach: The Hag of Beara (2009), winner of the Rooney Prize for Irish Literature in 2010, The Mining Road (2013) and A Quarter of an Hour (2018). She was given the Ireland Chair of Poetry Bursary Award in 2009 and the Lawrence O'Shaughnessy Award for Irish Poetry in 2011, and received a UCC Alumni Award in 2012. Her work has been included in various anthologies, including Selina Guinness's The New Irish Poets(Bloodaxe Books, 2004) and Billy Collins's Poetry 180: A Turning Back to Poetry(Random House, 2003). Residencies and festival readings have taken her to France, India, China and America, amongst other locations.
Gerald Dawe is an award-winning poet and writer from Belfast, and a retired Professor of English and Fellow of Trinity College, Dublin. He has published eight collections of poetry, most recently Mickey Finn's Air in 2014. Dawe has been an influential editor and critic for several decades. He is the editor of a wide range of books, including Earth Voices Whispering: An Anthology of Irish War Poetry, The Cambridge Companion to Irish Poetry, and Ruined Pages, the selected poems of Padraic Fiacc.
Caroline Bracken was selected by poet Sinéad Morrissey for the 2018 Poetry Ireland Introductions Series and invited to read at the International Literature Festival Dublin. Her work has been widely published including in the Irish Times. She was runner-up in the 2018 Fish International Poetry Contest judged by Ellen Bass, a chancellor of the Academy of American Poets. Caroline is currently longlisted for the Over the Edge New Writer of the Year 2018.
Elaine Feeney is from Galway, where she teaches at St. Jarlath's College. She won the Cúirt Gran Slam in 2008. Feeney has performed internationally since her first slam success and is considered both a page and performance poet, one of the 'most provocative poets to come out of Ireland in the last decade' – Fionnaula Flanagan, 2013
Conor O'Callaghan is from Newry in Northern Ireland. He served as writer-in-residence at University College, Dublin, taught at Wake Forest University, and co-held the Heimbold Chair in Irish Studies at Villanova University. Currently, he teaches at Sheffield Hallam University in England, where he teaches courses in creative writing, modern poetry, and Anglo-Irish literature. He is the author of four books of poetry, including Seatown and Earlier Poems (2000); Fiction (2005), which was shortlisted for the Irish Times Poetry Now Award; and most recently The Sun King (2013). He is also the editor of The Wake Forest Book of Irish Poetry, Volume III. O'Callaghan is the recipient of a number of awards, including the Patrick Kavanagh Award for his first collection of poetry, the Rooney Prize Special Award, the Times Educational Fellowship, and the Bess Hokin Prize from Poetry in 2007. He was shortlisted for the Forward Prize in 1994.
Former Santa Clara County Poet Laureate Sally Ashton is the Editor-in-Chief of DMQ Review, an online journal featuring poetry and art. She is the author of three poetry books, and a fourth, The Behaviour of Clocks on a Rotating Body of Reference, is forthcoming in 2019. Honors include an artist fellowship from Arts Council Silicon Valley and Montalvo Arts Center. Ashton teaches creative writing at San Jose State University and through private workshops.
For the last five years Belfast-based poets Manuela Moser and Stephen Connolly have been organizing Lifeboat poetry readings in bars and cafés across their city. Their aim has been simple: to offer an equal platform to poets who are yet to publish a book of poems and those who have already built a reputation. Culture Northern Ireland have praised their informal approach to their events, saying that 'the usual format for poetry readings involves a hushed room and rows of chairs (of varying degrees of comfort). There's something far more convivial and appealing about hearing poetry in the context of good food and drink, part of the everyday pleasures, not set apart like a precious ornament that no-one must touch.'
Expect a relaxed atmosphere, a well-stocked bar and plenty of great poems.